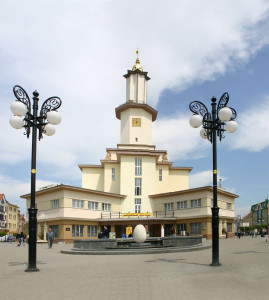 Stanisławów was founded as a fortress in 1650 and was named after the Polish hetman Stanisław "Rewera" Potocki, although other sources claim it was named after his grandson (see History of Ivano-Frankivsk). In 1772 its name was transliterated into German as Stanislau when it became part of the Austrian Empire and later Austria-Hungary; however, after the revolution of 1848 the city carried three different linguistic renderings of its name: German, Polish, and Ruthenian(German: Stanislau, pronounced [ˈʃtaːnɪslaʊ̯]; Polish: Stanisławów, pronounced [staɲiˈswavuf]); Ukrainian: Станісла́вів, Stanyslaviv, pronounced [stɑnʲiˈslɑβ̞iw]). Other spellings used in the local press-media included: Russian: Станиславов andYiddish: סטאַניסלאוו.
After World War II it was changed by the Soviet authorities into a simplified version Stanislav (Ukrainian: Станісла́в, pronounced [stɑnʲiˈslɑw]; Russian: Станисла́в, pronounced [stənʲɪˈslaf]). In 1962, on the city's 300th anniversary, it was renamed to honor the Ukrainian writer Ivan Franko. Due to the city's over-sized name, unofficially it is sometimes called simply Franyk[3] by its residents. Even though Ivano-Frankivsk is the officially accepted name, the city's original name was never fully abandoned and/or forgotten and can be found throughout the city in all kinds of variations.
Name change
1662 founded as Stanisławów
1772 transliteration change to Stanislau
1919 transliteration change to Stanislaviv
1919 transliteration change to Stanisławów
1939 transliteration change to Stanislav
1941 transliteration change to Stanislau
1944 transliteration change to Stanislav
November 9, 1962 name change to Ivano-Frankivsk (for honour to Ivan Franko)
History[edit]
Timeline[edit]
• 1650–1662: establishing a private fortress of Potocki and seeking the Magdeburg rights
• 1662–1772: Stanisławów, Polish-Lithuanian Commonwealth (within the Kingdom of Poland),
• 1772–1809: Stanislau, Austrian Monarchy (within the Kingdom of Galicia and Lodomeria),
• 1809–1815: Stanislav, Russian Empire,
• 1815–1918: Stanislau, Austrian Empire, then Austria–Hungary,
• November 1918 – May 1919: Stanyslaviv, West Ukrainian National Republic,
• May 1919 – September 1939: Stanisławów, Poland, seat of the Stanisławów Voivodship,
• October 1939 – June 1941: Stanyslaviv, Ukrainian Soviet Socialist Republic,
• July 1941 – August 1944: Stanislau, seat of the Stanislau Kreis, Distrikt Galizien, Generalgouvernement,
• August 1944 – 1991: Stanislav, (renamed in 1962: Ivano-Frankivsk), oblast seat, Ukrainian SSR,
• Post–1991: Ivano-Frankivsk, independent Ukraine.

From 1662 till 1772 and from 1918 till 1939 had name Stanislav (Polish Stanisławów), from 1772 till 1918 – Stanislav (German Stanislau). Since 1939, the Soviets returned the Austrian name Stanislav and 9 November 1962 on the occasion of the 300th anniversary of the city was renamed Ivano -Frankivsk after the prominent writer Ivan Franko.
Ivano -Frankivsk is located on Pokutsko flat area on south-west Ukraine between Bystrytsia Nadvirnianska and Bystrytsia Solotvynska . The area of the is 3.89 (0.3 % of the region area). Subordinate to Ivano -Frankivsk City Council are five surrounding villages Vovchynets , Ugornyky , Mykytyntsi , Kryhivtsi , Khryplyn .